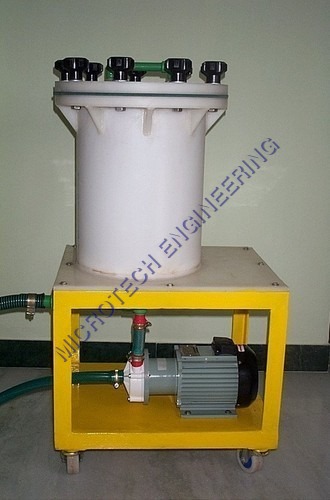 Industrial Electroplating Filter
Product Description
Industrial Electroplating Filter
The range of filter units has been specially developed for the filtration of electroplating solutions and the range of capacities available will meet the majority of automatic and manual plating installation requirements.
filter units are totally enclosed, provide a large filtration area, are easy to clean and maintain, and provide effective retention of activated carbon or filter aids.
The filters are designed to take Plate packs and the standard units incorporate a rubber lined centrifugal pump, magnetic drive pump.
Application :-
· ZINC - cyanide, alkaline, acid, neutral
· COPPER - cyanide, pyrophosphate
· CADMIUM - cyanide, acid, neutral.
· NICKEL - bright, semi-bright, dull
· TIN - acid
For the following solutions microtech filters fitted with special pumps can be supplied:
· acid tin (including bright solution.)
· solutions containing free hydrochloric acid e.g. nickel chloride strike solutions.
· flourborate and fluoride based solutions
· acid copper
Material of construction
· SS 304
· SS 316
· Monel
· enconal
· Titanium
· PTFE

· Polypropylene