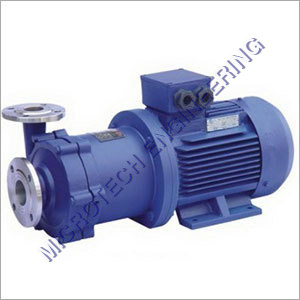 Magnetic Drive Pumps
Product Description
With our years of experience in this industry, we have emerged as a well-known company, engaged in manufacturing and exporting a wide collection of Magnetic Drive Pumps. These quality assured products are manufactured and designed from high grade raw materials and technology advancement. In addition, these pumps are used in large number of applications in different industries like Dairy industries, Chemical processing industries, Beverages, Paper & Sagar industries, Effluent treatment plant, Detergent, Soaps, Shampoo and others. Furthermore, for fulfilling the assorted requirements of our clients, these Magnetic Drive Pumps are made available in different specifications as per the client's need. Valuable clients can avail these products from the market at competitive prices.
Features:
Stout structure

High durability

Low power consumption

High efficiency
Standard Dimensions

Head: 80 meter
Capacity: 113 m3/h
Delivery Size: 12 to 100 mm
Temperature: -10 to 95 degree Celsius
Test Pressure: 10 kg/cm2
Standard Futures

Centrifugal single stage
Flange as per din standard
Back pull out design
Open/close impeller
Shaft sealing by single / doable mechanical seal
Sealed grease lubricated , deep grove ball bearing
The pump handle liquid having viscosities up to 1500 centrioles also with flame proof motor
Construction Material

Casing: S. Steel ( CF8/CF8M )
Shaft: S. Steel ( SS 410/SS 316/SS 304 )
Impeller: S. Steel ( SS 410/SS 316/SS 304 )

Other Applications

Food processing plant
Pharmaceutical industries
Sugar & confectionery
Bottling plants
Distillery
Alkaline solution
Water treatment plants
Colors dies & pigments / paints
Descaling application
Textile industries
Natural cellulose fiber / synthetic fiber system
Hot & cold water pumping
Steel industries
Scrubbing system
Fertilizer plants
Cement plants.