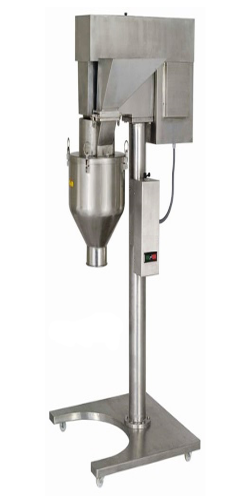 Multi Mill
Product Description
Multi Mill-The Milling & Size reduction Process

Application & Process :

Multi Mill is used for wet and dry granulation, pulverization, milling, shredding, chopping, size reduction in Pharmaceuticals, Chemicals, Cosmetics, Ceramics, Colors, Dyestuff, Food products etc. It also finds application in Pesticides, Fertilizers, Spices, Detergents, Insecticides, Plastics and Resins industries In multi mill particle size reduction is done through impact in air, on material by blades moving at high speeds, inside a cylindrical sieve. The particles of the desired size pass out through the screen placed inside the hopper

Salient Features :
Design is cGMP - Current Good Manufacturing Practices compliance All Product contact parts AISI 316 & non contact parts AISI 304 High speed milling, granulating, pulverizing, mixing and size reduction of wet & dry material. Output capacity 50 Kg to 200 Kg per hour.. Easy removable contact parts for cleaning & inspection. Easy Mobility. Variable force by swing better having knife & impact edges are rotating within screen. Direction of beaters can be changed by forward- reversible switch. Various combinations of perforated sieves & wire mesh.

Optional Features : AC frequency drive for variable speed. Belt less Drive Inline milling process with HSMG and Sifter Flame Proof electrical.

Over load protection. MODEL PMTM Output Speed 50 Kg to 200 Kg Depends on products, speed and sieve sizen Rotor Speed 750/1500/2300/3000 RPM by step pulley Option for VFD Rotor Diameter 250 mm Charging Height 1445 mm.Discharging Height 730 mm.Motor 3 HP/2.25 Kw/3 Phase/1440 RPM/AC