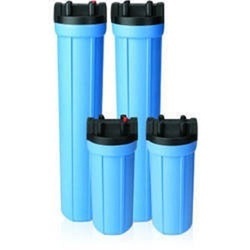 PP MOLDED FILTER HOUSING
Product Description
PP MOLDED FILTER HOUSING
We are engaged in offering an extensive range PP Molded Filter Housing that are made using polypropylene. These offer chemical compatibility in various applications and finds usage in residential and commercial areas. Also, PP Molded Housing offer grater cartridge capacity that reduces the number of vessels required in parallel installation. These can be used in place of costly low pressure stainless steel vessels and are known for its chemical resistance. These filter housings are ideally suitable for mounting in series of Polypropylene Jumbo Molded Housings.
Standard and Jumbo housings are manufactured of polypropylene. Leak proof sealing accomplished by cap impression against top seated 0 ring in sump. The square thread closure allows for years of cartridges change out without failure. These PP Molded Filter Housing are ideal substitute for costly low pressure stainless steel vessels. The larger body size allows for extra large cartridges & high flow rates. Polypropylene construction offers excellent chemical compatibility with Water, Beverages & Syrups and a broad range of chemicals.

COMPETITIVE ADVANTAGES
· Specially designed for higher flow rate
· Ideal substitute for costly low pressure SS housings
· An extra large cartridge results in higher dirt holding capacity
· Excellent chemical compatibility
· Easy mountable
SPECIFICATIONS
· Filter Housing End Connections
· Standard Housing (suitable for 2.5" cartridge) 1/2", 3/4", 1"
· Sizes (Suitable for 2.5" & 4.0" Diameter Filter Cartridge)
· Jumbo Housing (suitable for 4" cartridge) 1", 1 '1/2"