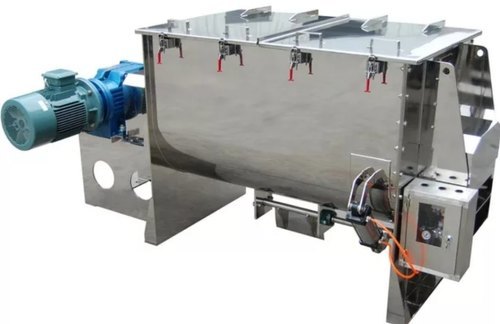 Ribbon Mixer Blender
Product Description
Ribbon Mixer Blender
Uniform Dry Mixing Process
Application & Process :
Ribbon blender mixer is used for uniformly dry mixing and blending applications in the pharmaceutical, chemical, cosmetic, food, pesticides, detergents, and plastics industries. The Ribbon Blender comprises of a U-shaped horizontal trough, specially designed Double Helical Ribbon Agitator, rigid fabricated structure motor, gear box.In operation, material is filled to the top of the outer ribbon. The shaft rotates at relatively low speed and the moving ribbons push the material back and forth mixing it. The outer ribbon rotation displaces the material from the ends to the center while the inner ribbon rotations move the material from the center to the ends. This counter-current action results in homogenous blending. Mixing is achieved in 15 to 20 minutes with 90 to 95 % or better homogeneity. The bottom discharge provided for unloading of the material and easy cleaning of the mixing drum. Specially designed self adjusting sealing arrangement of unique design is provided to ensure that no black particle enters into the mixing drum.
Salient Features :
Available in Capacity 50 kg to 5000 kg. model. Design is cGMP - Current Good Manufacturing Practices compliance. All contact parts AISI 316 & non contact parts AISI 304. Uniform dry maxing process. The shape of container and mixing stirrer gives sufficient continuous movement to the powder / granules result in good quality. Minor ingredients are dispersed homogeneously without the need for pre-mixing Double or triple action with blending occurring in the small voided areas immediately behind the blending ribbons. The interlocked acrylic covers of product container, enclosed drive& Overloads relay protection.
Optional Features :
Orientation of discharge is in side or centre. AC Frequency Drive with Variable speed, Jacketing for heating & Cooling, Vacuumized operation. PLC controls with HMI Touch Screen. Flame Proof Electrical.
Safety Features :
Total drive transmission system enclosed Limit switch installed in the top lid ensure lid is closed Overload relay Protection and Emergency stop button
Model Total Capacity Working Capacity RPM Motor Rating Container Dimension Over all Dimension Liters Liters Light HP MediumHP Length-mm Width-mm Height-mm Length-mm Width-mm Height-mmPRMB-5 8 3-5 PRMB-10 15 7-10 PRMB-25 40 20-25 PRMB-50 75 25-50 PRMB-100 150 70-100 PRMB-150 225 110-150 PRMB-200 300 150-200 PRMB-300 450 225-300 PRMB-400 600 300-400 PRMB-500 800 400-500 PRMB-750 1100 500-750 Please contact us for more details. PRMB-1000 1500 700-1000