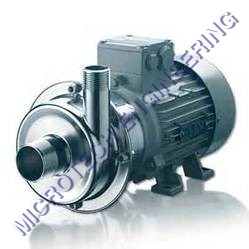 SS Sanitary Pump
Product Description
SS Sanitary Pump
Head : 48 meter
Capacity : 200 m3/h
Delivery size : 12mm to100 mm
Temperature : -10 to 95 degree Celsius
Test pressure : 10 kg/cm2

Standard futures :

Centrifugal single stage
Flange as per din standard
Back pull out design
Open / close impeller
Shaft sealing by single / doable mechanical seal
Sealed grease lubricated , deep grove ball bearing
He pump handle liquid having viscosities up to 1500 centrioles
Also with flame proof motor
Milk, Cream, Butter Milk Condensed Milk
Fruit Juice, Beer, Wine, Sugar Syrup
Vitamin Solutions, Sugar & Confectionery.
R O Water, DM water, Pure Water.
Water for Injection (WFI)
Vegetable Oil, Mineral Oil, Lub Oil etc.
Pharmaceutical Formulations, Syrup etc.
Alkaline Solutions / Alcoholic Drinks
Acids, Fine Chemicals
Bottling Plants, Soft Drinks & Distillery
Food Processing / Liquid Food Stuffs
Water Treatment Plats
Colour dyes and Pigments / Paints
Descaling Applications, Paper & Cement Industries
Detergent, Soaps, Paste & Shampoo
Textile Sizing, Dyeing & Finishing Systems
Natural Cellulose Fiber / Synthetic Fiber System
Hot & Cold Water Pumping.