Tablet Press- Tabxpress-puv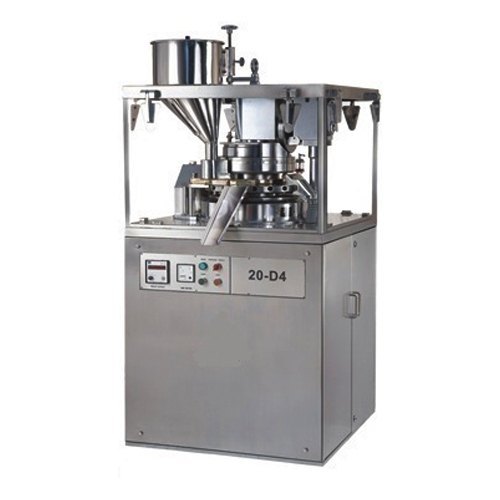 Tablet Press- Tabxpress-puv
Product Description
Tablet Press- Tabxpress-puv

High Speed Single Sided Central Drive & Pre-Compression Tablet Press Gmp Model

Application & Process :
TabXpress-PUV Tablet Press Machine is used for production of simple and precise tablets from powder in Pharmaceutical and relevant Industries.The TabXpress-PUV is high speed single sided central drive pre-compression rotary tablet presses is suitable for medium size batch production with uniform tablet size and weight. The PUV-20/27/30 designed in an effort to exceed the cGMP requirements and ensure the most economical and efficient tablet production. The TabXpress-PUV features a unique ergonomics design for easy to operate, easy to fast change over, easy to clean with minimum down time.
THE MACHINE ERGONOMICS DESIGN CONCEPT :
The TabXpress-PUV has been completely new designed according to the most modern ergonomic aspects. cGMP confirm. Machine's basic construction with separate compression zone and drive zone. Fast Cleaning and Changeover capability. Stainless Steel and Acrylic Glass Surrounding. Easy to Operate and Maintenance.
Salient Features :
Design is cGMP - Current Good Manufacturing Practices compliance. All contact parts AISI 316 & non contact parts AISI 304. TabXpress- PUV is high speed single sided tablet press with central drive, pre compression and suitable for medium size batch production and offered in three model "D" , "B" & "BB" Tooling. Simple & Convenient Operation, Changeover, Cleanliness, Operator Protection & Ease to Maintenance. All parameters setting of tablet; like tablet thickness, weight adjustment, Pre-compression Pressure, Main Pressure are provided in front of the machine and outside the compression zone. Tablet parameters can be tuned during operations from outside the tableting zone Easy accessibility for quick cleaning and product changeover. Pre-Compression System to improve compressibility and tablet Quality. Turret Drive is Central Drive from Closed Gearbox, No Gearing on Turret. Electromagnetic Clutch for turret drive. A C Frequency variable drive for Turret Motor and Feeder Motor. Force feeder systems with bottom drive for uniform filling to weight consistency. 3 Pc. turret with S.S 316 Die Pot. Upper Punch penetration & Lower Punch scraper seal. Drive system completely enclosed and sealed off from the pressing zone. S.S. 304 closer at bottom drive zone and acrylic glass surrounding at compression zone.Optional Features :
PLC Controls with HMI Touch screen interface. Powder level sensor for hopper. Start and stop times Rejection and sampling device
Safety Features :
Interlocked upper guard and Overload relay protection. Overload pressure release mechanism. Emergency stop button.